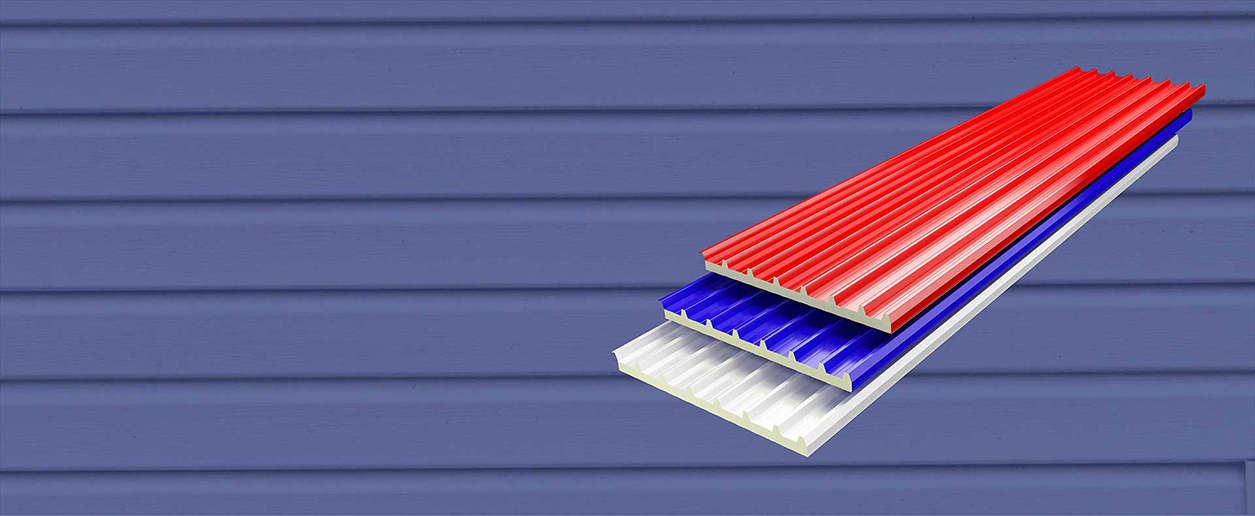 SANDWICH PANELS
General
information
The sandwich panels manufactured by the Plant of Sandwich Panels are known for their very high quality, excellent heat insulation, easy installation and dismantling, durability, high fire and water resistance, sound insulation and corrosion resistance and are almost used in all climatic zones for outer and partition walls as well as for roofs. The longitudinal shapes of bottom and top coatings of the wall and roof panels are trapezoidal, lockable and prepared with the same lines.
The colour of the sandwich panels is selected from RAL colour catalogue depending on customer's order. The isocyanate, polyol, pentane and catalyst are applied between metal plates depending on roof or wall type panels. The polymer coated iron plates with thickness of 0,45-0,5 mm and with width of 1090, 1150 and 1250 mm are used during production. In the production line installed in the plant, which belongs to Krauss Maffei, the manufacturer of equipment meeting the highest standards in this area, 306 m² /hour polyurethane, 180 m²/hour stone wool wall and roof sandwich panels are produced. The density of polyurethane panels is 38÷42 kg/m³.
The stone wool panels are especially used in the buildings with high fire risk. During panel production the steel sheets in any thickness and colour are applied on customer's request. The width of panels is normally 1 meter and length thereof is 3÷15 meter. The high quality raw materials such as isocyanate, polyol, pentane and catalyst are used during production of polyurethane sandwich panels. Currently, the thicknesses of sandwich panels are 50,70,100 mm.
Types of sandwich panels and their technical specifications:
Sandwich panel
Thickness, H mm
Length, L mm
Width, B mm
roof

50;

70;

100;

3000÷15000

1000 (montaj)

wall coverings

50

70;

100

3000÷15000

1000 (montaj)
Technical parameters of sandwich panels
N
Indicators

Norm

1
Density, kg/m³
38-42
2

Heat conductivity factor, W/m•K

0,028
3
Water-absorbing ability when relative humidity is 96% within 24 hours, % volume
0,1
4
Water saturation within 24 hours, % volume
1
5
Durability, kg • force / cm2
In tension
3
In pressure
2,5
In slipping
-
6
Flexibility module, kg • force / cm2
100
7
Slip module, kg • force /cm2
45
8
Heater stability in metal sheets, kg•force/sm2
In free separation
3
In slipping
2,5
Sənaye zavodlarlı

Kommersiya binaları

Sosial Strukturlar

Elektrik Stansiyaları
Sendviç
panellərin
Üstünlükləri
Tez və asan quraşdırma.

Mükəmməl istilik izolyasiyası.

Yüksək yanğın müqaviməti.

Hava və su sızdırmazlığı.

Səssiz strukturu.