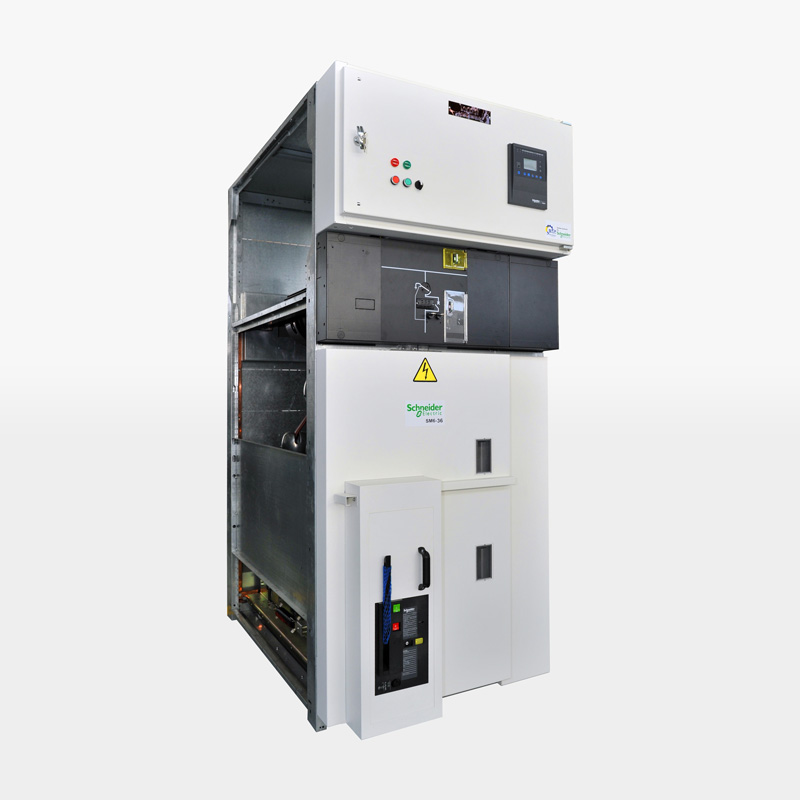 SM6-36 Series 36 (6) KW Module-Type Slots
General information
GOST 12.2.007.4, GOST 14694, GOST 12.2007.0, GOST 14693 IEC 606946, 62271-200, 60265-1, 62271-100, 62271-102 UTE NFC 13.100, NFC 13.200, NFC 64.130, NFC 64.130 The Electric Equipment Plant has been producing SM6-36 type distribution slots since 2013 under the license of SCHNEIDER ELECTRIC.
SM6-36 is a modular-type slot in a metal body filled with SF6 gas.
SM6-36 type slots are installed in medium voltage distribution networks (DN) and distribution transformer substations (DTS) and play an important role in the distribution of electricity.
The SM6-36 slots meet all requirements on technical characteristics, human and equipment safety. They can be installed quickly and easily.
SM6-36 distribution slots have the following slot types:
IM, IMC – Load separating slot
QM – Load separating slot set with fuse
DM1-A, DM1-D – Slot with one separating switch
DM2 – Slot with two separators and one switch
CM, CM2 – Measuring slot with voltage transformer
SM-Separating slot
The SMS-36 slots have the following main technical indicators:
Rated breaking voltage

Nominal voltage, kW Unom

36

Maximum working voltage, kW Umax

38.5
Isolation degree

Nominal industrial voltage resistance, 50 Hs/1 min, (kW)

70

80

Rated voltage, 1.2/50 mks, kW

170

195
Breaking current

Unloaded cable, A

50
Short-time withstand current, (kA/1sec)

Nominal connection current, A

12.5

630

1250

16

630

1250

20

630

1250

25

-

1250
Short time electrodynamic Current (kA)
31.5
40
50
62.5