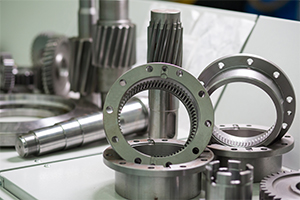 PRECISION MACHINING OF EQUIPMENT AND DETAILS
General information
The precision machining workshops of Sumgait Technologies Park can produce any kind of equipment and their details irrespective of the area of use. The workshops are equipped with the power lathes and machine tools of Japanese Mazak Company.
Our lathe equipment allows for lathe operations in raw materials of dimensions from Ø 51mm, L = 130mm smaller to Ø 3500mm, L = 1800mm large.
Our milling equipment allows the milling operations in the raw materials of dimension from 3750x10000mm, H = 1750mm, 43000kg to 1380x750mm, H = 600mm, 1200kg, and also Ø730, H = 500mm, 500kg; Ø630mm, H = 900mm, 400kg.