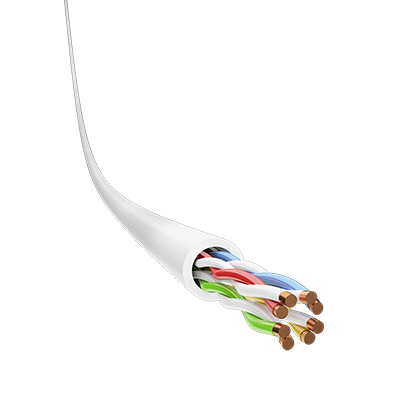 U/UTP Cat 5e
General information
It consists of 4 twisted pairs, a breaking thread and an outer protective shellsheath. Category: 5e.
Materials:
Electric conductor: soft copper
Insulation: high-density polyethylene
Outer protective sheath: PVC/LSZH
STRUCTURAL DESIGN:
Outer sheath
Twisted pair
Breaking thread
SPECIFICATIONS:
The copper conductor diameter: 0.51 mm (24AWQ)
The outer diameter of the cable: 5.1 ± 0.2 mm
The minimum bend radius: 4xD mm (D-outer diameter of the cable)
Operating temperature: 20 °C / + 60 °C
The cable length at standard packing: - 305±5 m
AREA OF APPLICATION
Cables of this type are used in communications of the information and communication systems. These cables, designed for digital, analog and video signals transmission, support ISDN systems, Ethernet 10 Base-T, Fast Ethernet 100 Base-T, Gigabit Ethernet 1000 Base-T, TokenRing 4/16 Mbps, TP-PMD/TP-DDI 125 Mbps/s, ATM 155 Mbit/s.
FREQUENCY CHARACTERISTICS:
| | | | | | | |
| --- | --- | --- | --- | --- | --- | --- |
| Frequency (MHz) | RL | Attenuation, dB | NEXT, dB | PSNEXT, dB | ELFEXT, dB | PSELFEXT, dB |
| 1.0 | 20.0 | 2.0 | 65.3 | 62.3 | 63.8 | 60.8 |
| 4.0 | 23.0 | 4.0 | 56.3 | 53.3 | 51.7 | 48.7 |
| 8.0 | 24,5 | 5.8 | 51.8 | 48.8 | 45.7 | 42.7 |
| 10.0 | 25.0 | 6.5 | 50.3 | 47.3 | 43.8 | 40.8 |
| 16.0 | 25.0 | 8.2 | 47.3 | 44.3 | 39.7 | 36.7 |
| 20.0 | 25.0 | 9.3 | 45.8 | 42.8 | 37.7 | 34.7 |
| 25.0 | 24.3 | 10.4 | 44.3 | 41.3 | 35.8 | 32.8 |
| 31.25 | 23.6 | 11.7 | 42.9 | 39.9 | 33.9 | 30.9 |
| 62.5 | 21.5 | 17.0 | 38.4 | 35.4 | 27.8 | 24.8 |
| 100.0 | 20.1 | 22.0 | 35.3 | 32.3 | 23.8 | 20.8 |
ELECTRICAL CHARACTERISTICS:
| | |
| --- | --- |
| The maximum conductor resistance at a temperature of 20 °C | 95 Om/km |
| The ohmic asymmetry between twisted pairs | <4 % |
| Capacitive asymmetry of a twisted pair with respect to ground at a frequency of 1 kHz | 160 pF/100 m |
| Wave resistance at a frequency of 1-100 MHz | 85-115 Om |
| Maximum working capacity | 5.6 nF/m |
| | |
| --- | --- |
| The maximum conductor resistance at a temperature of 20°C | 95 Om/km |
| The ohmic asymmetry between twisted pairs | <4% |
| Capacitive asymmetry of a twisted pair with respect to ground at a frequency of 1 kHz | 160 pF/100 m |
| Wave resistance at a frequency of 1-100 MHz | 85-115 Om |
| Maximum working capacity | 5.6 nF/m |