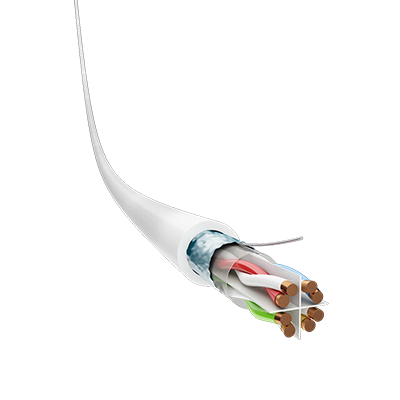 F/UTP Cat 6
General information
Cable consists of twisted pairs screened by a crossed isolator, a protective PET tape, a drain wire, and an aluminum opolymer tape screen. Outer protective jacket covers the screen core. Category: 6.
Materials:
Conductor: soft copper
Insulation: expanded polyethylene
Outer protective jacket: PVC/ LSZH (grey)
Screen: aluminum polymer tape
Protective tape: PET tape
Drain wire: tinned-copper wire
STRUCTURAL DESIGN: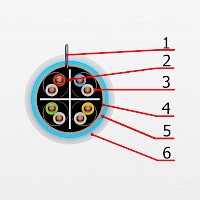 Drain wire
Crossed isolator
Twisted pair
Protective tape
Foil screen
Outer jacket
TECHNICAL SPECIFICATIONS:
Diameter of copper core: 0.57 mm (23AWQ)
Outer diameter of a cable: 6.4 mm
Minimum bend radius: 8хD mm (D-outer diameter of a cable)
Temperature range of operation: -20 °С / +60 °С
Standard length: 305±5 m
AREA OF APPLICATION
These cables are used in information and communication systems. Cables are designed to transmit digital, analog and video signals and support the following systems: ISDN, Ethernet 10 Base-T, Fast Ethernet 100 Base-T, Gigabit Ethernet 1000 Base-T, Token Ring 4/16 Mbps, TP-PMD/TP-DDI 125 Mbps, ATM 155 Mbps.
FREQUENCY SPECIFICATIONS:
| | | | | | | |
| --- | --- | --- | --- | --- | --- | --- |
| Frequency, MHz | RL | Attenuation, dB | NEXT, dB | PSNEXT, dB | ELFEXT, dB | PSELFEXT, dB |
| 1.0 | 20.0 | 2.4 | 74.3 | 72.3 | 67.8 | 64.8 |
| 4.0 | 23.0 | 3.8 | 65.3 | 63.3 | 55.8 | 52.8 |
| 8.0 | 24.5 | 5.3 | 60.8 | 58.8 | 49.7 | 46.7 |
| 10.0 | 25.0 | 6.0 | 59.3 | 57.3 | 47.8 | 44.8 |
| 16.0 | 25.0 | 7.6 | 56.3 | 54.3 | 43.7 | 40.7 |
| 20.0 | 25.0 | 8.5 | 54.8 | 52.8 | 41.8 | 38.8 |
| 25.0 | 24.3 | 9.5 | 53.3 | 51.3 | 39.8 | 36.8 |
| 31.25 | 23.6 | 10.7 | 51.9 | 49.9 | 37.9 | 34.9 |
| 62.5 | 21.5 | 15.4 | 47.4 | 45.4 | 31.9 | 28.9 |
| 100.0 | 20.1 | 19.8 | 44.3 | 42.3 | 27.8 | 24.8 |
| 200.0 | 18.0 | 29.0 | 39.8 | 37.8 | 21.8 | 18.8 |
| 250.0 | 17.3 | 32.8 | 38.3 | 36.3 | 19.8 | 16.8 |
ELECTRICAL SPECIFICATIONS:
| | |
| --- | --- |
| Maximum conductor resistance at a temperature 20 °С | 95 Om/km |
| Resistance unbalance between twisted pairs | |
| Capacitive unbalance to earth at a frequency of 1 kHz | 160 pF/100 m |
| Resistance at a frequency of 1-100 MHz | 85-115 Om |
| Maximum operating capacity | 5.6 nF/m |
| | |
| --- | --- |
| Maximum conductor resistance at a temperature 20° С | 95 Om/km |
| Resistance unbalance between twisted pairs | <4% |
| Capacitive unbalance to earth at a frequency of 1 kHz | 160 pF/100 m |
| Resistance at a frequency of 1-100 MHz | 85-115 Om |
| Maximum operating capacity | 5.6 nF/m |