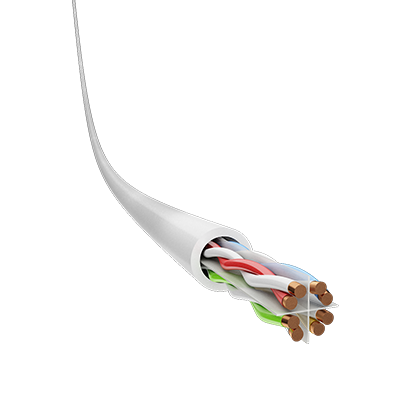 U/UTP Cat 6
General information
Twisted pairs are wound on a crossed insulator and sheathed with an outer protective jacket. Category: 6.
Materials
Conductor: soft copper
Insulation: high-density polyethylene
Outer protective jacket: PVC/LSZH (LSZH-sheathed cables are used on ships, in computer nodes, in places where toxic or acid smoke is likely to be exposed to people or equipment).
STRUCTURAL DESIGN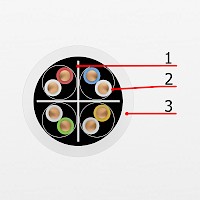 Crossed insulator
Twisted pair
Outer jacket
TECHNICAL SPECIFICATIONS
Diameter of a copper core: 0.56 ± 0.015 mm
Outer diameter of a cable: 6.2 ± 0.2 mm
Minimum bend radius: 8xD when laying; 6xD when laying vertically; 4xD when laying horizontally (D – outer diameter of a cable)
Temperature range of operation: -20 °C / +60 °C
Standard length: 305±5 m
AREA OF APPLICATION
Cables are designed to transmit digital, analog, and video signals and support the following systems: ISDN, Ethernet 10 Base-T, Fast Ethernet 100 Base-T, Gigabit Ethernet 1000 Base-T, Token Ring 4/16 Mbps, TP-PMD/TP-DDI 125 Mbps, ATM 155 Mbps.
FREQUENCY SPECIFICATIONS:
| | | | | | | |
| --- | --- | --- | --- | --- | --- | --- |
| Frequency, MHz | RL | Attenuation, dB | NEXT, dB | PSNEXT, dB | ELFEXT, dB | PSELFEXT, dB |
| 1.0 | 20.0 | 2.0 | 65.3 | 62.3 | 63.8 | 60.8 |
| 4.0 | 23.0 | 4.0 | 56.3 | 53.3 | 51.7 | 48.7 |
| 8.0 | 24.5 | 5.8 | 51.8 | 48.8 | 45.7 | 42.7 |
| 10.0 | 25.0 | 6.5 | 50.3 | 47.3 | 43.8 | 40.8 |
| 16.0 | 25.0 | 8.2 | 47.3 | 44.3 | 39.7 | 36.7 |
| 20.0 | 25.0 | 9.3 | 45.8 | 42.8 | 37.7 | 34.7 |
| 25.0 | 24.3 | 10.4 | 44.3 | 41.3 | 35.8 | 32.8 |
| 31.25 | 23.6 | 11.7 | 42.9 | 39.9 | 33.9 | 30.9 |
| 62.5 | 21.5 | 17.0 | 38.4 | 35.4 | 27.8 | 24.8 |
| 100.0 | 20.1 | 22.0 | 35.3 | 32.3 | 23.8 | 20.8 |
| 200.0 | 18.0 | 29.0 | 39.8 | 37.8 | 21.8 | 18.8 |
| 250.0 | 17.3 | 32.8 | 38.3 | 36.3 | 19.8 | 16.8 |
ELECTRICAL SPECIFICATIONS:
| | |
| --- | --- |
| Maximum conductor resistance at a temperature 20 °С | 95 Om/km |
| Resistance unbalance between twisted pairs | <4 % |
| Capacitive unbalance of a twisted pair to earth at a frequency of 1 kHz | 160 pF/100 m |
| Characteristic impedance at a frequency of 1-100 MHz | 85-115 Om |
| Maximum operating capacity | 5.6 nF/m |
| | |
| --- | --- |
| Maximum conductor resistance at a temperature 20° С | 95 Om/km |
| Resistance unbalance between twisted pairs | <4% |
| Capacitive unbalance of a twisted pair to earth at a frequency of 1 kHz | 160 pF/100 m |
| Characteristic impedance at a frequency of 1-100 MHz | 85-115 Om |
| Maximum operating capacity | 5.6 nF/m |